Choosing the Best Time for a Fundraiser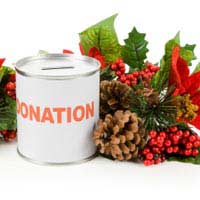 Choosing the best time for a fundraiser can make all the difference to an event and the income. There are certain times of the year when the public feels more charitable and is in the right mood for giving.
Why Fundraising Timing Is Crucial
Christmas, with its spirit of giving and feel good factor, is an obvious time for fundraising. Holiday seasons such as
Christmas
and
Easter
never fail to ignite the public's charitable instinct. But at other times of the year it can be more of an effort to persuade the public to give generously. Assessing the right time to request donations and send out appeals should be part of the overall fundraising strategy.
The Many Fundraising Methods at Christmas
Christmas is generally regarded as the number one fundraising period. The major charities are out in force collecting on the street corners during this holiday season. It is also a great time for fundraising events such as dinner evenings and dances. Fundraising groups will send out Christmas cards to companies with requests for donations at this time of the year. Employers can urge their employees to donate to collect for a nominated charity instead of giving the usual secret Santa present for one year.
Fundraising Timing and Sporting Events
There are certain dos and don'ts when it comes to timing and sporting events.
Summer Holidays
may seem the ideal time but scheduling a sponsored run during the hottest months of July and August will not be popular. Similarly,
Sports Events
held during the middle of winter are not usually guaranteed a big turnout from volunteers or the public. The late spring and early autumn months are the best times to hold fundraising sporting events. That is, of course, unless the sporting event is a seasonal one, such as skiing, or indoors, such as swimming. Even then, you should consider whether people will away on holiday at those times.
Be the First Fundraiser to Ask
The first to ask will usually be the one who receives is an important point when it comes to fundraising timing. This is a crucial part of a fundraising strategy similar to 'if you don't ask you won't receive'. Street collectors are always out early looking to bag the best spots on busy high street corners. New companies that open up in local areas can be sent fliers and emails requesting their help with sponsorship and donations. Fundraisers should keep an eye on the local press for details of new businesses, schools and children's clubs that open in their town or city.
Plan Indoor Social Events for the Winter
The long winter nights are the best time for fundraising social evenings, such as
Race Nights
, dinners and dances. Many people won't venture out during the winter evenings unless they are given a reason to do so. Friday nights are usually the best time of the week for these events and at the end of the month. People do tend to feel a little more generous when their monthly salaries have just arrived. The end of the month pay rule does actually count throughout the year and not just during the winter months.
Getting Children Involved in Fundraising
The school summer holiday period is the best time to involve children in fundraising activities. Children are free from school for six long weeks and some will jump at the chance to help out with fundraising. This is the best season for schools, churches and children's clubs to hold fundraising events. The Easter and October holidays are also good periods to hold sports and fun day events for children. Many parents will also welcome the chance for their children to have a worthwhile activity during the holiday periods.
When Not to Ask For Fundraising Donations
Fundraisers who collect door to door through the local community should be aware there are times not to disturb people. Late at night and early mornings are two of the more obvious ones. People also do not like to be interrupted during the busy period when they have just returned from work. Timing at the weekends can also be tricky; people are either relaxing or out enjoying themselves. Fundraisers who live within a community should be able to gauge the best times for door step visits.
Timing a fundraising event and when to request donations is a matter of assessment. Getting the timing right can make all the difference to a successful fundraising campaign. Analysing the best time is not always foolproof but staying aware of the public's mood and the feel good holiday seasons will be beneficial.
IDEAS FUNDRAISING IS FOR SALE.
This website is for sale [more info].
You might also like...