Christmas Fundraising Ideas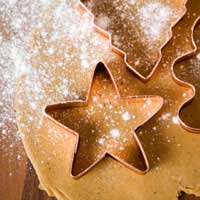 There is perhaps no better time to appeal to people for fundraising than during the Christmas season, when there are throngs of shoppers in town centres, eager to purchase gifts for their loved ones. Christmas imparts this feeling of charity and giving, making it an ideal time to collect charitable donations.
These Christmas themed fundraising ideas will help ensure that this holiday season is a very merry one for your charity or organisation:
Sell Christmas Themed Items
People do more shopping at Christmas than at any other time of year, making it an ideal opportunity to sell items for your fundraising cause. Christmas items are especially popular, so get creative!
Here are some ideas to get you started:
Homemade Christmas cookies - Santa isn't the only one who loves cookies and milk. Spend the day baking and packaging homemade Christmas cakes and cookies, which can be sold on to friends, family and coworkers with a profit for your fundraising.
Christmas cards - Christmas cards are easy to make and sell, and with most households sending Christmas cards to their friends and family, the opportunities for fundraising success are nearly limitless.
Handmade Christmas decorations - If you're handy with art supplies, there are a variety of Christmas decorations you can create and sell, such as tree baubles, wreaths and garland strands. Even if you're not very good at crafts, you can offer to help neighbours put up their decorations in exchange for a donation.
Christmas Fundraising in Your Community
In addition to selling Christmas items and appealing for donations from your neighbours, friends and family, you can also get out into your community and fundraise.
Ask a local supermarket if you can pack grocery bags at the checkout stands. People will be glad for the assistance with their Christmas shop, and they'll give you a donation in exchange for your help. You can even stand several volunteers outside the shop and offer assistance with carrying bags out to shoppers' cars.
To really get the Christmas spirit into your community, ask your local authority for permission to sing carols in the town centre. Don't forget to recruit at least one volunteer to move amongst the onlookers and take donations while you sing!
Easy Christmas Fundraising Ideas
There's no better time of the year to donate to charity, and charity begins at home. Even if you don't want to sing or sell your way to Christmas fundraising success, there are several ways you can change your current Christmas routine and immediately make a difference for your fundraising efforts.
First, ask your friends and family for a donation instead of a Christmas gift. You may initially meet with resistance, but if you explain that this is what you truly want for the holiday season, many will oblige your request.
You can also ask for donations by including a note inside the Christmas cards you mail to friends and family. Even if they are not able to donate immediately, you have at least spread the word about your cause and your fundraising efforts.
No matter what fundraising ideas you do this Christmas season, your ideas will help to remind those around you of the true spirit and meaning of Christmas, helping to brighten the holidays for you, your family and friends, and your fundraising cause.
You might also like...
Hi I wondered ifyou anyone could help and give some advice please. I work with for a Fostering Agency and we would like to involve our looked after children in creating Christmas cards. We are thinking of holding a competition, with winners in different age categories. The winners cards being chosen as the Christmas cards we would use to send to our carers. When purchasing the cards we need for our regional office, we want to ensure this includes a donation to a charity, a charity that our looked after children have chosen. I am aware of this kind of thing being available for schools and the donations going back into the school, but not aware of this kind of thing for businesses who want to donate to charities and do not want to profit themselves. Can this be done via this site, or has anyone got an information to where to direct us to please. Many Thank Kindest regards SEB
SEB
- 30-Sep-16 @ 10:18 AM