How to Diversify Fundraising Income Streams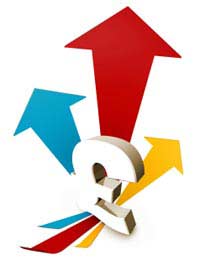 Diversifying fundraising income streams is similar to not putting all your eggs in one basket. Fundraisers should set into a place a number of different ways to generate fundraising income during the planning stage.
The Need for Diverse Income Streams
Income stream diversification is a smart move for fundraisers, especially for fundraising groups who are considering the long term. Diversification means creating a number of different ways to bring in fundraising income throughout the year and in the future. The different income streams should be considered during the planning stage, and should stretch to at least a year into the future. Diversifying income streams can also be seen as a safety precaution. If one income stream does dry up there will still be others that will bring in funds.
Considerations when Planning out Fundraising Income Streams
One of the major considerations when planning income streams is the actual cost of the fundraising. Different fundraising events will cost more to set up than others. Attracting interest from the public to a fundraiser should be another consideration. Fundraisers should assess the likelihood of certain fundraising activities attracting more people, and more donations, than others. Different fundraising methods with have different benefits and disadvantages. The cost to run and the interest from the public will be major considerations when planning the intended income streams.
Obtaining Grants as an Fundraising Income Stream
Grants are available to charitable organisations and can come from many different sources. National Lottery funding and government funding grants are available to charities and voluntary organisations. There are a huge number of these types of grants available from the UK and Europe. Finding these grants can take a lot research time but may well be worth the effort. The internet will be the best research tool to finding these grants and applications should be available to complete online.
Fundraising Sponsorships from Businesses
Obtaining business sponsorship is another important stream of fundraising income. Obtaining business sponsorship can bring funds, volunteers and donations in the form of goods. Having local or national business sponsorship can bring credibility to a fundraising campaign. There is also the benefit of extra publicity through business sponsorship. Having even one business on board a fundraising campaign on a long term basis can bring many benefits.
Donations through Private Individuals
Regular donations from individuals are the lifeblood of a fundraising organisation. Individuals who register to give regular donations through standing orders and direct-debits are an important income stream. High profile individuals such as radio and television names can also bring extra publicity to a fundraising campaign. Research can be undertaken on high profile individuals to see if they do give to certain charitable causes. The more individuals who regularly donate to a fundraiser the stronger the fundraising organisation will become.
Fundraising Activities and Income Streams
Annual fundraising events and activities are of course the main income streams. Regular and one off events will bring in funds throughout the year and will usually be the fundraising campaign highlights. There is a number of different ways to hold activities and events throughout the year including:
Regular or one off sponsored sporting events
Street fundraising and door to door fundraising
Appeals over the internet using fundraising websites and social networking sites
Having an appeal day solely for local businesses that have shown interest or are sponsoring the fundraising organisation
Street collections that can include seasonal events such as carol singing during the Christmas season
Private dances and lunches solely for corporations and businesses that are regular donators
Selling of goods and merchandise related to the charity on websites
One off fundraising days for families and children through schools, churches and clubs
Diversify Fundraising Payment Methods
Fundraising organisations should remember to set in place a number of different donating methods. These can include text donations, payment via the internet, standing orders and direct-debits. Employees can also be encouraged to donate to charities using Gift Aid and the Payroll Giving Schemes; this will also bring extra income in the form of tax benefits.
Diversifying income streams should be a major consideration for fundraisers. Obtaining a good range of income streams is not hard to achieve if research has been undertaken. A diverse range of income streams does make financial sense for any fundraising group or organisation.
You might also like...