I Raised £11000: A Case Study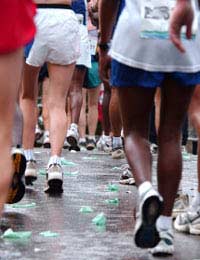 Chris Davies and his two friends, raised over £11,000 for a local hospice during the first half of 2007. The hospice had helped care for Chris's wife, Jo Davies, before she sadly died. The hospice day centre had been a social place for her and the hospice meant so much to Chris's wife Jo that she herself wanted to raise money for it.
Jo's friends Sarah and Jo did a 50-mile walk to fundraise for the hospice in 2007, after Jo became very ill, along the Dorset Coast over two days. Chris's wife died two days after they completed the walk.
As Chris felt quite isolated during his wife's illness, he set up a website with a blog where he could write about what was happening. He told us: "I didn't gloss over anything, and I think it may have been this combined with a lot of effort from our friends that helped us raise so much."
Chris and his wife's friends used both on and offline methods of giving including the justgiving site.
Following their success, they have now decided to hold this event annually, but with more of a family focus. So in July 2008 they held the Jo-Rassic Jaunt raising another £1,200.
Fundraising Tips
They are now planning this year's event. Here's how they go about it and some tips for others.
Chris offered his insight: "I made sure that my blog was continually updated with progress, alongside the horror of Jo's decline, and linked to the online giving page over and over again.
"We also had an 'in' with the local paper, so managed to get lots of coverage, which also plugged the website page. The journo who covered it is a personal friend, and also wrote a beautiful piece after Jo's death.
"I kept on emailing every contact I had - resorting to emotional blackmail towards the end."
It also helped that Jo and Sarah, Chris and Jo's friends weren't shy about "being cheeky" – they even managed to convince the B&B owner who put them up half way through the walk to contribute!
Chris offers his advice to anyone hoping to raise money in a similar way:"Get yourself organised as soon as possible". In terms of organising a walk he advises to make sure you have planned it and gone over the route. He said: "For the 50-mile walk, the ladies made sure that they had walked most of the sections at various times before the two-day event, just to be sure that they could do the 50 miles in the allotted time. It also might be good to get some help from a local walker, who knows the routes.
"The same went for the shorter family walk - both the ladies had walked it a few times to make sure that the times were right and that even the littlest kids could do it."
Any other tips? "If I was to help with another big event, like the first one, I'd now be using Facebook, Youtube and Flickr to push, promote, inform and cajole."
Chris now works for the hospice, as a Web Manager working for the Director of Fundraising, so it's good to know his excellent efforts will continue.
You can donate to the Hospice at on their website, justgiving.com/charity /donate
You might also like...