How to Produce a Charity Concert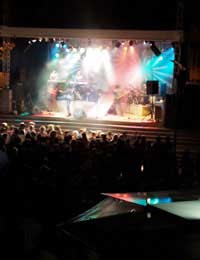 Live Aid set the stage in 1985, and now charity concerts are a mainstream way to raise funds for a charitable cause. With a little help from your friends, you can organise your own benefit concert and enjoy the sweet sounds of fundraising success.
Planning A Charity Concert
Before you get started planning your charity concert, it's a good idea to set a realistic goal. Charity concerts come in all styles and sizes, and having a basic understanding of what you wish to accomplish will help your planning tremendously.
A benefit concert relies primarily on three things: music, venue and audience. Whilst your charity concert must have all three in order to be successful, there is no set order in which to pursue them.
Finding A Charity Concert Venue
Getting the support of a venue is an excellent first step. There are a variety of venues you can book, depending on the type of show you're planning. Community halls, pubs, clubs and school auditoriums can all be great venues for a concert.
When you're looking at venues, be sure to tell the venue owners or managers about your charity and ask for a reduced booking fee. Some companies will even offer their space for free (especially on a week night), as it's great publicity and goodwill for their business. You will also need extra help (either volunteers or paid workers) at the door, selling food or drink and in the sound department, so also ask if the venue will provide these people.
Before you book a space, it's important to keep in mind the type of show you're planning. For example, if you're planning a rock show, a community centre may seat more people than a local club, but the club will already have the speakers and soundboard that you need for the band. Renting this equipment can put a big dent in your budget, so make sure you've considered everything you need.
Finding A Performer For A Benefit Concert
Having an act booked as early as possible is important for the success of your charity concert. You can find performers of all genres in a variety of places.
First, ask your friends and family if they know any musicians or other industry contacts. Having connections like these makes it much easier to convince an artist to play your show, especially if you're offering a reduced rate or asking them to play for free.
If you don't know anybody in the music business, you can start your search at local schools. University music departments can be especially helpful, as they have scores of young musicians who are looking for performance experience. Even if you're putting on a larger concert, allowing a few amateur groups to play earlier in the day will give you lots of free entertainment for your concert.
To find professional bands, the only way to do it is to contact them (or their agents) directly. All regions have local, professional acts who might play your show, and these bands are also more likely to bring their own following to the show.
Alternatively, you can pursue larger national acts, but remember; these bands usually charge many thousands of pounds to play a show whilst on tour, so your charity concert might be a tough sell. Still, it doesn't hurt to ask!
Benefit Concert Publicity
Once you've chosen your location and booked the talent, you can begin publicising your event.
Prepare a press release with all of the relevant information, and remember to feature your charity prominently (you can find templates for press releases online). Once you send the press release, contact local media by telephone to follow-up.
The media will hopefully publicise your concert, thereby doing some of the promotion for you, but you will also need to promote the show yourself. Place fliers, run ads in the newspaper and use social networking websites like Facebook and MySpace to tell people about your benefit concert. Along the way, you can also ask for people to volunteer at the event.
The Show Must Go On
The day of the event will be hectic but, with the right amount of planning, hopefully things will run smoothly.
Remember to lean on your volunteers for support; you can't do everything, so don't try. If you assign jobs to people to do at the concert, such as collecting donations, taking tickets, or selling food and drink, you will be free to manage and troubleshoot the show.
Finally, keep in mind that, although putting on a charity concert is your primary goal, there are other fundraising opportunities at the show too. You can sell food and drink, collect donations and distribute charity leaflets before and after the show, raising even more money for your charitable cause.
You might also like...
Can you recommend a book for planning charity events, we want to plan a charity concert on our local green, there have been many events take place there before,so it is available for use but we have no idea how to go about any of it! We just held our first charity night at a local restaurant and raised £1800 so we are now very keen to get our teeth into something else!! But need some guidance so that we can be organised!!
Memjoa
- 22-Mar-12 @ 5:08 PM