Music Fundraising Event: Case Study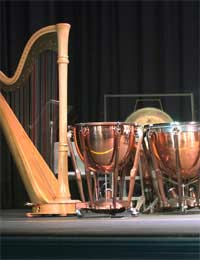 Cambridge Water organised a charity classical music concert, with all the proceeds going to the WaterAid charity. Famous mezzo soprano Catherine Wyn-Rogers played at the event. The concert also included the music of Rachmaninoff, Elgar and Respighi, performed by the Cambridge University Musical Society. The event was held at the famous Cambridge King's College Chapel.
Annalise organised the event and told us that they hoped to raise £20,000. She explained a bit more about how the event came about: "Cambridge Water has supported WaterAid for more than 27 years. Most water companies support the charity. Each year it has a fundraising target.
"In 2003, Cambridge Water hosted a concert at King's College Chapel to celebrate its 150th anniversary. The event was a huge success (although there was no charge for the tickets). This year, we decided to repeat the exercise and use it as an opportunity to raise funds for WaterAid at the same time through the sale of tickets."
She also told us a bit more about the process of organising the event: "It has been a big job. Cambridge Water has been very fortunate in the fact that Cambridge University Musical Society agreed to take on the task of organising the concert itself – booking the venue, arranging the music, liaising with Catherine Wyn-Rogers and providing advice on how to promote the concert.
Having said that there was still a lot of 'behind the scenes' activities to organise – everything from designing and printing posters, leaflets and tickets to drafting and issuing press releases and ensuring everyone gets their tickets on time. In addition to this, we had a number of VIP guests attending the concert, so we had to organise itineraries for their stay, arrange a drinks reception and book an after-dinner buffet."
Publicity
Annalise used a number of methods of promoting the event, including:
Leaflets
Posters
Articles in the local press and on the radio
Listings on classical music websites and "what's on" in Cambridge guides
Letters and emails sent to people we felt would be interested in attending
Publicity via the Cambridge Water website
Viral email
Support and Problems
Although Annalise had a lot of support, there were some problems. She explained: "Little things made the concert time-consuming. Once you have had posters and leaflets printed you then need to ensure they are distributed to the right places. This can mean spending hours going from shops to cafes to colleges and stuffing envelopes to send to schools, libraries and music societies. To save costs and ensure a personal service Cambridge Water also made the decision to act as its own box office, so has had to handle all aspects of booking tickets – everything from obtaining a seating plan, to printing tickets and allocating seats."
Advice
Annalise offers her advice to others who may be planning a similar event. "Give yourself plenty of time and do not be afraid to ask people for their help and advice, particularly when it comes to publicising the event. Most people and organisations are willing to help out where they can, by displaying a poster or handing out leaflets. All you need to do is ask!"
You might also like...