Create a Charity Calendar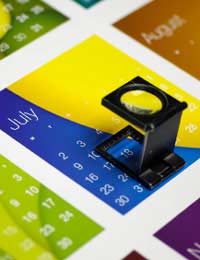 The major motion picture Calendar Girls, based on a true story, showed us all that inspiration, creativity and a little panache is all it takes to create a great charity calendar.
Whether you have aspirations of supporting your own organisation or group by producing a charity calendar, or using a calendar to raise money for a national charity, it's easy to get started.
Creating A Charity Calendar – The First Step
If you are creating a charity calendar to benefit a registered charity, you will need to notify them of your plans from the beginning. They will need to grant you permission to use their name and logos on your calendar, and you should also include their registered charity number and contact information.
Choosing A Subject For Your Charity Calendar
The first step in creating a charity calendar is choosing a subject. Ideally, you would create a calendar that is related in some way to your charity. However, you can also choose more general subjects like landscapes, portraits or art, as these would be suitable for a wide variety of causes.
Keep in mind that logistics will play a role in the calendar you create. Take care to choose a subject that you can actually photograph or reproduce within your budget; the more you spend creating your calendar, the less profit you'll make for your charitable cause.
Obtaining Calendar Photos Or Artwork
Aside from printing costs, the primary cost associated with creating a charity calendar will be procuring and arranging the photos or artwork.
Although you can do all of the photography yourself, you can also obtain calendar photos and artwork from a variety of sources:
Purchase photographs – There a thousands of sites on the Internet where you can purchase royalty-free photos. For a higher fee, you can purchase exclusive rights to a work so it will only appear in your calendar.
Ask family and friends for photos – Most people have taken photos at some point in their lives; ask if you can use some of these in your calendar. For example, you could put together a great travel calendar just by asking family and friends for their holiday snaps!
Use local connections – Contact local schools and colleges to ask for photo and art submissions. You may even be able to get a student photographer to help you put the calendar together.
Help from a local photographer – Ask local photographers if they'd be willing to donate an afternoon to help your charity. They might have a studio you can use for posed shots too.
In addition to collecting photographs for each month of the year, you will also need to design the calendar pages and information pages. Test the layout of these pages before you send it to a printer by creating a mock-up of your finished calendar using your computer, or by cutting and pasting each page layout into an old calendar. This will give you an idea of what the finished product will look like.
Hiring A Calendar Publisher
Once you have planned your calendar and collected the artwork and photos, you will need to contact a publisher to create the final product. Although you can create calendars using some home printers and software programmes, using professional services can be cheaper and more hassle-free in the long run.
If you are worried about having available funds to pay the printer upfront, consider advertising your calendar ahead of time and taking deposits. Printers can provide discounts for items you buy in bulk, so having an idea of the number of calendars you can sell is very helpful.
When you call publishers for prices, be sure to mention that you are putting together a charity calendar. They might be willing to give you a discount, or you can negotiate a reduced rate in return for printing their company details in the calendar. They'll also be able to assist you in laying out your calendar for printing, although they might charge a fee for this.
Selling A Charity Calendar
There are many different ways you can market and sell your charity calendar once it's completed.
First, ask if you can display the calendar in local shops. Many businesses sell calendars, including book sellers, greeting card stores and stationery shops. You can negotiate to have them buy wholesale stock from you directly, or give them a portion of the sales of each calendar sold.
You should also consider setting up a website where people can order your calendar online, or offer your calendars to other online sellers at a wholesale rate. This will give you great national exposure for your charitable cause.
Finishing Your Charity Calendar
Creating a charity calendar is something you can start on your own, getting help along the way from local businesses, friends and family. It can be a very rewarding experience too, both for your fundraising cause and the customers who will be enjoying your creation every day of the year.
You might also like...
Help me create a calendar that can help 200 Orphans study with quality education
Child Love
- 13-Jul-19 @ 2:14 PM
Lissa - Your Question:
Me and my family are looking at making a calender for breast cancer like In the film calender girls and just wondered if anyone knows how we can go about it.
---
Our Response:
We cannot give you any more information than which is contained in the article, which should tell you all you need to know.
IdeasFundraising
- 21-May-18 @ 2:51 PM
Me and my family are looking at making a calender for breast cancer like In the film calender girls and just wondered if anyoneknows how we can go about it.
Lissa
- 19-May-18 @ 6:41 PM
Hi, as part of a PTA we arranged a charity calendar to raise money for my child's primany school. We asked all the children to take photos of nature they could find in the city and we chose the best 12 pics - one for each month and a collage for the cover. We used a company called Team Calendars who seemed much cheaper than others online and had a really good website where you can design the pages yourself, insert logos etc. We had 500 printed and sold them at our Christmas fair in gift envelopes. By January we had raised well over £1K!
Percy
- 14-Aug-14 @ 12:44 PM
Bidfordon Avon Community Library is producing a calendar for 2015. Please send details of various types of simple calendars together with pricing for 200 - 300 copies Thank you Simon Tilley
simon
- 26-Jun-14 @ 6:50 PM
Hi, Im a 43 year old mom to four children and im training for a fitness competition next year.I spend a lot of my time in the gym and was thinking of creating a calender for charity, ive been reading about the 'naked' calenders where the items are placed in certain places but im not sure if these are any good for charities. Would you be able to point me in the right direction.
mac
- 25-Oct-13 @ 3:14 PM