Easter Themed Fundraising Ideas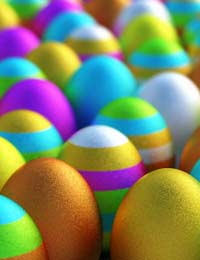 Easter has many traditions and it is a holiday much-loved by kids and grown-ups alike. Why not start your own fundraising tradition this spring with these fantastic Easter themed fundraising ideas?
By fundraising at Easter, you can use existing Easter traditions to create buzz and interest in your fundraising cause. Everyone will appreciate the Easter activities you've organised, and your charity or group will benefit too!
Eggs, sweets and bunnies - they're all here in our Easter themed fundraising ideas:
Easter Day Activities
To fill up your Easter day before everyone goes home to their roast lunches, you can organise Easter themed activities within your community. Encourage your neighbours to bring the kids out early for some Easter fun, with donations benefiting your fundraising cause.
To begin the festivities, set up a row of tables with boiled eggs, paints and markers, and allow the children to decorate the eggs. You can give prizes for the best-looking and most creative eggs, or simply let the kids enjoy the Easter egg decorating tradition.
Once the eggs have been decorated, here are some of the Easter activities you can do:
Easter egg roll / Pace-egging - Find a hill in your community and allow each child to roll one of their decorated eggs. Award prizes for the eggs that travel the farthest and the fastest.
Egg and spoon race - Children race from one end of a course to the other whilst carrying a decorated egg on a spoon. The goal is to reach the finish line first without dropping the egg. For even more fun, make it a team event where the spoon must be handed off between racers!
Easter egg hunt - With the help of your neighbours, place decorated eggs around your community for the children to find. You can give out prizes to the children who find the most eggs, or designate a special "golden egg" that is eligible for a top prize.
With all of your Easter Day events, make sure you plan activities so children of all ages can take part. For example, when you're hiding eggs for the Easter egg hunt, place all of the eggs in areas where they can be seen and reached, and consider designating a special area for the younger kids so they can find eggs too.
Let The Easter Bunny Help You Fundraise
Everybody loves the Easter Bunny - why not let him help you with your fundraising efforts?
A few weeks before Easter, rent an Easter Bunny costume (or hire an entertainer) and plan community events to benefit your charity or organisation, such as:
Easter Bunny appearances - Ask schools and local businesses for fundraising donations, then have the Easter Bunny show up and greet the children! He can hand out small sweets, play games and dance with the children.
"Lunch with the Easter Bunny" - Work with a local restaurant to have a "Lunch with the Easter Bunny" either the weekend before Easter or on Easter Sunday. Families pay a set price for their meals and the Easter Bunny will stop by to visit each family and hand out small toys and sweets.
Easter Bunny Hutch - Similar to Santa's Grotto, set up an Easter themed area in a store or community shopping district. Invite children to take a photograph with the Easter Bunny in exchange for donations. You can even work with a local photographer to create other keepsakes, such as photo mugs, mouse mats and photo frames.
Whatever events you decide to plan, it will be much easier if you involve local businesses (both for publicity and venue) and your council. Depending on the events you have planned, you may need a permit; check with your local authority before you start!
Easter And Springtime Fundraising
Fundraising at Easter time is a very rewarding experience. Like Christmas, the fundraising activities you plan will become a part of your community's memories - kids will look back and remember their first Easter egg hunt, or the day when the Easter Bunny came to their school.
When planning your Easter themed fundraising, take care to make these moments special. There are so many ways you can fundraise at Easter time, whilst also making a positive impact on your family and local community!
You might also like...