Fundraising Ideas for Trips or Experiences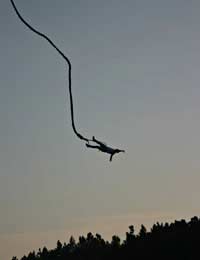 Fundraising is rewarding by itself but, when combined with an extreme experience or exotic trip, it becomes a different type of personal challenge.
Combining fundraising with an experience is a popular method of raising money whilst also pushing past personal limitations. Fundraisers who choose a sponsored experience or trip to raise money for their cause must overcome their fears and discomfort, and motivate themselves to succeed.
Although conquering fear is part of the process of raising money through a trip or experience, it's important to choose a fundraising venture that is still attainable.
Don't know where to start? Here are some ideas for fundraising experiences and trips:
Fundraising Experiences
Fundraising experiences are fairly straightforward: choose an exciting extreme event and solicit donations for the completion of your experience. Friends, family and co-workers in particular will be excited to see you perform such an amazing feat.
There are lots of experiences you can organise in your home country or abroad to raise money for a charitable cause:
Abseiling
Bungee jumping
BASE jumping
Skydiving
White-water rafting
You can make even more money towards your charitable cause by choosing your activity and location carefully. For example, if you decide to go abseiling, you might choose a busy office building in the town centre to carry out your experience. Then, whilst the experience is being set up, you can ask for donations from the office workers and passers-by in the city centre. With a large crowd, this type of location is destined for fundraising success.
For a little more adventure, consider undertaking a fundraising experience abroad. You can design your experience based on the locale you choose - such as bungee jumping from a cable car in the Swiss Alps - or follow the same fundraising formula as you would within the United Kingdom.
Fundraising Trips in Exotic Locales
If you want to combine the rush of a fundraising experience with the trip of a lifetime, consider undertaking a fundraising trip in a foreign location.
Exotic trips are not for fundraising lightweights - you often must raise several thousand pounds to pay for your trip before any fundraising profits are made. However, fundraising trips can be an exceptional personal challenge and great exposure for your fundraising cause too.
There are thousands of options for fundraising trips, depending on your interests. You can travel by bike, horse, canoe, or trek on foot; you can climb mountains, cross deserts, or explore rainforests.
The fundraising trip you decide on is a choice unique to you and your charity, and the opportunity to go anywhere in the world is tempting. However, when planning a fundraising trip, you should choose a location that is relevant to your charity. For example, a backpacking trek through Africa would highlight the continent's AIDS crisis and would suit an organisation like the One Campaign, whereas a trek to Mount Everest would, in this case, be less appropriate.
Organising a Fundraising Trip
The easiest way to organise a fundraising trip is to sign up with a charity trip company. These businesses will help you plan your fundraising trip and they will know more about the local area than you do. They may also be able to get better deals on airfare and accommodation, and they can place you in fundraising groups if you don't wish to travel alone.
Whether you sign up with a fundraising trip company or decide to plan your trip alone, make sure you keep yourself organised at all times. You should inform your charity and your family of your plans for each day of the trip, and you should also document your trip by taking photographs, videos and writing journals about your experiences. Your charity will love hearing about your fundraising trip and so will your friends and family!
Final Considerations Before Planning a Fundraising Experience or Trip
Planning is a key component of a successful fundraising experience or trip. These activities are exciting, but they require intricate organisational skills, and they also often have minimum fundraising amounts that must be reached before your cause can benefit from your efforts.
Choosing a fundraising trip or experience can be very exciting, but care must be taken to ensure that what you do is in the best interest of your fundraising cause. Although the thrills and adrenaline rushes of a fundraising experience are sensational, these experiences and trips also require a personal understanding of your motivations in order to be successful. Your donors and your charitable cause will be depending on you to uphold your promise. When you do, it will be a fundraising experience you will never forget!
You might also like...