How to Raise Money Through Sponsorship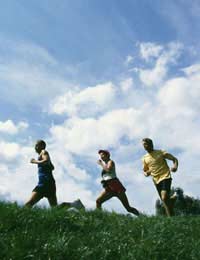 Sponsorship is a very popular way of fundraising. Sponsorship basically means that a sponsor agrees to pay money to someone if they do something. An example is you may be sponsored for a sponsored walk. Sponsors may say they will pay £50 (for example) if you finish the walk. Alternatively they may sponsor you £5 for every mile you walk.
Sponsorship can be used for all kinds of fundraising activities, for example:
- Sponsored walk, run or swim
- Sponsored silence (good for children!)
- Sponsored shave (men often shave off a beard they have had for a long time in return for sponsorship)
- Sponsored sit in a bath of beans/custard
- Trek the three peaks
Really, imagination is the only limit for what you could be sponsored for.
Sponsorship Tips
Here are some tips on how to raise the maximum amount of sponsorship money for your chosen cause:
Keep your sponsorship form on you at all times. You never know when you might bump into someone who might sponsor you. Don't forget a pen too! Use both an online sponsorship form and a paper one. This way you can send a link to potential sponsors anywhere.
Set up page on justgiving.com so that people can log on and sponsor you by credit or debit card.
Start your sponsorship efforts as early as possible and be organised. This way you have the best way of raising the maximum amount of money without the process being stressful or rushed.
Look into matched giving, either through the company you work for, or another business. Through matched giving, someone, usually a business, agrees to donate a pound for every pound you raise (or match the money you have raised in a similar way).
Write to local companies to ask if they would be interested in sponsoring you. A well written letter or email will increase your chances of success. Our article 'How to Write a Fundraising Letter' will help with this.
Raise publicity for your sponsored event. Contacting local and national papers, magazines and radio stations could help raise awareness of your cause and also to attract many more sponsors. Our article 'How to Publicise Your Fundraising Activity' will provide ideas on publicising your event.
If you have a particular reason for raising money for a certain charity, for example a personal experience, be honest with sponsors about it. Avoid preaching or being pushy but giving people some background information about the charity or the event may make them more likely to sponsor you.
Leave a sponsor form in a prominent place such as a staff room at work, a gym changing room or a church notice board. People can still sign up for sponsorship without you being there and this is also a good option for those who find approaching people directly for sponsorship a little awkward.
Give sponsorship forms to friends and family as well so that they can try and raise sponsorship amongst their contacts. Widen the pool of potential sponsors and the numbers will soon start to add up.
Think about how you will collect the money as this can often be harder than attracting sponsors in the first place. Consider asking for a post-dated cheque or allowing people to donate by Paypal or online bank transfer.
You might also like...
You are really doing a good work and happy to know you.
Genesis
- 11-Jul-17 @ 2:30 PM