Fundraising Ideas for Work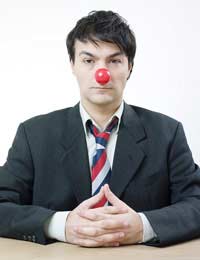 Work can be monotonous, and charity fundraising helps to break up the day and provide an infusion of fun and excitement into daily work tasks.
Many of the fundraising ideas you do outside of work can be incorporated into a work environment, but there are also certain tasks that are successful largely because they occur in a work environment. Here are some workplace fundraising ideas to get you started:
Dress Down Day Or Fancy Dress Day
At most jobs, work attire is dictated by your employer, leaving little room for comfort or personal style.
Employees love work days when they can deviate from the corporate dress code. When you schedule a dress down day, workers gladly pay a small donation, usually a pound, and are allowed to wear their own clothes into work.
Fancy dress days are even more exciting in an office environment. For a small fundraising donation, workers are allowed to come to work in a costume. Don't forget to award prizes at lunchtime for the top outfits, giving away small, inexpensive prizes like bottles of wine or boxes of sweets for the funniest, most creative and scariest costumes.
Fundraising Raffle
Raffles are another popular workplace fundraising idea, and they're also one of the easier fundraising ideas to do - print matching tickets, sell each one for a pound and hold a drawing to give away prizes.
You or your co-workers can bring in items to serve as prizes, or you can work with a local business to give away a larger prize or gift voucher. You can even ask a local restaurant to provide a free dinner for the winner. It's great exposure for the businesses involved and you'll also raise a good bit of money for your fundraising cause!
"Bag A Lunch" Fundraising
In most workplaces, employees favour going out for a takeaway or visiting the work cafeteria at lunchtime. If all of this money was put towards your fundraising cause instead, it would make quite a difference!
Start a campaign at work where your co-workers bring in lunch at least one day a week. They can bring lunch on their own, or get a group together and have everyone agree on one item to bring. You can even bring last night's leftovers! The money you save by bringing your lunch instead of buying it is donated to your fundraising efforts.
Having A Successful Fundraising Campaign At Work
Fundraising at work can be an extremely successful endeavour, but it requires some knowledge of your workplace to do it properly. In nearly all cases, you will need the support of your manager to conduct fundraising activities on work premises. You may also need permission from your company's corporate office if your local manager is not authorised to make those decisions for the business.
Once you've received permission, pick an activity suitable for the number of co-workers in your office and get started! By doing something fun and making the work day different for your co-workers, your fundraising efforts will surely be rewarded.
You might also like...