How to Organise a Charity Walk or Run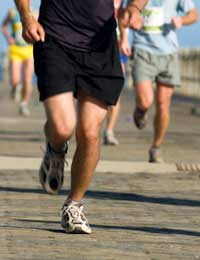 Charity walks and runs are popular fundraising events year-round. Organising a charity walk or run is not only a wonderful way to raise money, but it's also a visible fundraising method that will help publicise your charitable cause to the public.
Planning Your Charity Walk Or Run
The first step towards organising a successful charity walk or run is choosing a route. There are thousands of pre-planned walking routes throughout Britain, as well as unmarked walking territories in the countryside and along city streets. You can speak to a local walking or hiking club for suggestions.
The route you choose should be appropriate for your intended participants. For example, if you are planning to have many walkers or runners participating, you will need a wider path to accommodate them safely. Also, some paths are better suited for walking than running, so consider what type of event you'd like to hold before you choose your path.
Choosing your walking or running path early will also allow you to plan other aspects of the event. You will need volunteers to help on the day of the walk or run, and the length and difficulty of the course will dictate how much help is needed. You should also consider setting up an on-site medical tent and drinks stations along the course for the participants.
Legalities Of A Charity Walk Or Run
There are several legalities to consider when planning a charity walk or run. First, you should obtain permission to use your planned route on the day of the event. Speak to the local council and the land owner(s) for permission, and make sure your plan does not interfere with someone else's planned use of the land for that day.
Secondly, you should contact your charity to inform them of your plans. You will need permission to use their name and logo for your event, and if you inform them early they will be able to help you with publicity too.
Finally, you should obtain liability insurance for your event. Ideally, your insurance should cover any medical problems that occur during the event, as well as incidentals such as damage to land and property. Contact an insurance provider to discuss your event and the coverage they offer.
In addition to receiving insurance coverage for the charity walk or run, you should also notify local emergency services of your plans well in advance. Depending on the size of the event, they may provide assistance with issues like event traffic or on-site medical care.
It may go without saying, but if you are planning a road walk or run you will also need to speak to the council and police to coordinate road closures on the day of the event. To avoid disappointment, you should do this as early as possible!
Finding Walkers For Your Charity
Once you have laid the groundwork for your charity walk or run, it's time to get other people involved.
As you publicise your event, you should get written or verbal commitments from participants. This is essential, as you will need enough support stations and volunteers on the day of the event.
Keeping good records about your participants will be essential throughout the process. You can check in with them in the weeks leading up to the event to see if they need any help or fundraising tips, and you will need to contact them when the event is finished to collect the fundraising donations they received from their sponsors.
Publicising A Charity Walk Or Run
When you have a sense of the number of participants, contact your local media to inform them of the event. You should prepare materials for them to use in their press coverage, including information about your charitable cause, the date and location of the event, and the number of participants. It also helps if you have a unique story to tell, as they will be more likely to feature you.
Be sure to give the media enough notice that they can cover the event – the more publicity you receive, the more funds you'll raise!
Holding A Successful Charity Walk Or Run
Charity walks can be as small or as large as you like; although we may think of monumental events like the London Marathon when discussing charity walks and runs, in actuality there are thousands of smaller events across the country every year that also raise significant funds for charity.
As with most fundraising endeavours, planning is key to the success of a charity walk or run. Also, the more you can predict and organise the event before it happens, the more fun you'll have on the day of the event!
You might also like...
Hi I would like to do sponsored walk for charity route has been planned but don't know what steps to take next could you please give advice on how I can achieve this thanks
Parky
- 23-Mar-21 @ 11:21 AM
Hi. I am looking to arrange a sponsored charity walk for children to do. To raise money for a family member who had a tragic accident leaving him paralysed for life. Money is being raised for modifications to his home to give him best possible future when he completed recovery. Any advice or tips would be amazing please.
Kelly
- 16-Aug-20 @ 11:01 AM
Hi my daughter is profoundly deaf due to meningitis when she was 6 months old she is now 5has cochlear implants but bsl is her first language and I have been unable to get a course in bsl this us because they cut the funding for this I am now trying to get a sign group in bsl in my area and I am planning on waking snowdonia to raise funding for this I don't know how to go about this any idea please thank you amanda
Rara
- 23-May-18 @ 10:07 AM
My son has terminal cancer i want to walk from cambridge to liverpool to raise money for cancer. Have you any tips/advice. Thanks
Angela
- 29-Mar-18 @ 10:08 AM
I was just wondering about he insurence side of this, how much does that usually cost?? Thanks x
Jledwards
- 3-Apr-12 @ 4:49 PM
Found this article very useful as I have never arranged anything like this before
Pauline
- 10-Dec-11 @ 10:58 PM