Unusual Fundraising Ideas You Can Do at Work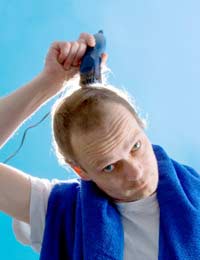 When it comes to fundraising at work, some offices are inundated with fundraising requests seemingly every week. It takes an unusual fundraising idea to stand out from traditional office donations and fundraising initiatives.
Whatever unusual fundraising activity you decide to do, rest assured it will brighten your day, amuse your co-workers and benefit your cause, too.
Weird Sponsored Fundraising Activities
Doing a weird and wacky sponsored activity allows your co-workers to relax and have a laugh at work. The only limit is your creativity (and your boss's permission). Here are some popular ideas:
Sponsored wax – co-workers pay a donation for a chance to pull a waxing strip from a man's leg, back or chest. It's a painful – but profitable – way to fundraise for your charitable cause.
Shaved head sponsorship – similar to the sponsored wax, co-workers make donations and are allowed to shave someone's head.
Baked bean boots – ask co-workers to pledge for every minute you walk around work in baked bean boots. Who knows? After they get a whiff of your feet, they might even pay you to stop!
Wacky Work Auctions
Holding a charity auction at work is a very entertaining fundraising activity, and it works especially well if you're able to get your bosses to participate.
To make it a bit more unusual, instead of selling products to the highest bidder like one would expect from an auction, your bosses and co-workers can volunteer to do tasks for the highest bidder. For example, a manager might promise to make breakfast for a week, and the highest bidder wins this prize.
You can auction off prizes and other items, too, but watching your boss serve breakfast or lunch will be the hit of your fundraising work, guaranteed!
Fancy Dress Day... With A Twist
Most workplaces are accustomed to holding dress down days or fancy dress days, and for good reason – they're unobtrusive and employees love them.
Why not put a twist on traditional dress up days by having a cross-dressing day? Ask the men to wear high heels, dresses and wigs and let the women wear suits or baggy shirts and trousers. Just watching the male employees try to walk in high heels will be enough to keep your co-workers and customers thoroughly entertained all day long.
Swear Box and Other Weird Fundraising Pledges
If you have the type of workplace where you're allowed to speak freely, consider placing a swear box in the office. Employees caught swearing must make a donation to your charity. This fundraising idea could make millions in some workplaces!
Similarly, you can round up your co-workers and ask them to make other pledges in the workplace, with your fundraising cause benefiting. For example, you could pledge to give up smoking or chocolate, and your co-workers could sponsor you for how long they think you'll last without your vices. However, if you're caught cheating, you have to make a big donation to your own fundraising cause!
Fundraising Ideas For An Unusual Day At Work
Fundraising is a great way to break up an otherwise monotonous day at the office, and this is especially true for wacky fundraising ideas. A bizarre fundraising idea can foster office camaraderie whilst also raising money for a great cause.
With the kind of positive, entertaining attention that an unusual fundraising idea can bring to your cause, your fundraising endeavour is well on its way to being successful.
School Fundraisers
For information and advice on fundraising at school, read our article
School Fundraising Ideas
in our
Kids and Families
section.
You might also like...
Thanks for this invaluable advice for a novice like me! Much appreciated!
MsreliabliltyMax
- 29-Mar-12 @ 7:39 AM