Summertime Fundraising Ideas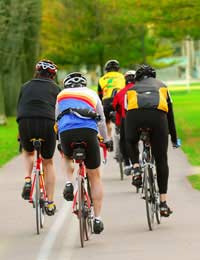 Fun and sun - what could be better? With great weather and the school holidays, summertime is a perfect time to fundraise. Whether at the beach or outside having a barbecue, summertime offers plenty of fair weather fundraising ideas and lots of time to do them.
Here are some great "fun in the sun" fundraising ideas you can do this summer:
Sponsored Bike, Run Or Swim
Beautiful weather in the summertime offers the perfect opportunity to hold a sponsored sporting activity. Alone or with a group of friends, you can raise money by collecting donations for a sponsored run, bike or swim. Donors are given the choice of providing a flat donation, or they can pledge a certain amount based on the distance you cover.
Whether you're swimming the English Channel or just running around a track, the media love to cover sponsored events like these, so don't forget to call your local paper and television stations. The more exposure you receive for your sponsored event, the more fundraising you'll accomplish!
Community Fun Fair
Everybody loves a fun fair - why not organise one for your fundraising cause?
First, talk with your local school or community centre about using their space for the day. They might even donate the use of their premises, which is money saved for your fundraising!
Fun fairs typically have games, vendors, food and rides. You can create a lot of these stalls yourself and staff them with volunteers.
You can also ask local businesses, particularly restaurants and shops, to donate their time and services towards your cause. By networking with these businesses, they'll get great community exposure at the fun fair, and in turn your fundraising cause can negotiate to receive a share of the profits they make. Don't forget to ask vendors to donate some prizes for your game stalls, too!
Ride rental is the main expense of running a community fun fair. You can recoup the costs of ride rentals with the money you raise from admission fees and games. The rest of the income from the fun fair is your fundraising profit.
Beach Party Or Sport Day
If managing a fun fair is too difficult, you can compromise and still get out into your community by holding a beach party, barbecue, or sport day.
Your community fun day can be elaborate or simple. You can raise lots of money for your cause by simply holding a barbecue and asking for donations, or you have the option of involving a larger group with a more specific themed day in a community space. Here are some ideas:
Sport day - Sport days allow children of all ages to take part in outdoor activities. You can organise kid-friendly activities like a sack race, horseshoe toss, dodge ball and three-legged races, and you can also sell food.
Beach party - If you live near the sea, organise a beach party for your local community. Charge party goers for beach-themed food and drinks, as well as games like beach volleyball. You can even have a beachwear fashion show!
Football tournament - Organise local teams to play in a tournament, charging admission for the spectators and selling food at the event. Design a special trophy for the winners and make it a yearly event in honour of your fundraising cause.
Summertime Fundraising Goals
Summer is the perfect time to fundraise because of the availability of outdoor space and the great weather. Whereas an event like a fun fair or a beach party would be difficult to organise in the cold winter months, people have lots of free time to enjoy the outdoors during the summer holidays.
By using the sunny weather and your community's desire to get outside during the summer months, your next fundraising endeavour will no doubt be a shining success.
You might also like...