Music and Arts Fundraising Ideas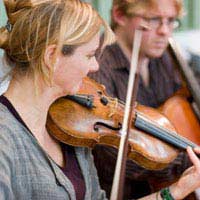 We encounter music and art in our everyday lives; it is hard to go through a day without hearing music or seeing art in some form. Integrating music and art into fundraising ideas is an excellent way to reach people of all ages with your fundraising message.
Fundraising through the arts can be done by professionals and amateurs alike. Here are some starter ideas:
Hold A Recital Or Art Show
If you and your friends are talented musicians or artists, or if you know anyone who is, you can hold an art show or recital to benefit your fundraising cause.
Most community spaces are ideal for recitals and art shows. Get creative with your choice of venue; speak with local authorities about using public space, or rent space from a hall or pub.
It's important to choose a location that is easily accessible to your audience and is appropriate for the size of the show you're planning. You'll be able to charge admission into the show and, depending on the venue, you can also sell snacks, drinks and hold a raffle or silent auction. Whilst admissions are the primary way to raise funds, anything else you do during the event will only add to your fundraising total!
Once you have found your space, all that's left is to find and display the talent. You can put on a themed show, such as a Christmas show, or make your recital or art show a medley of different styles. The choice is entirely up to you.
Music And Arts Tutorials For Kids
Providing arts lessons to local children is a great way to fundraise and give back to your community. If you know something about music or art, you can run these instructional sessions on your own. Alternatively, you can recruit local teachers or your talented friends to help out.
Parents pay a flat fee, donated to your fundraising cause, for each after-school or weekend session. You can teach a specific topic every week or just supply the materials and let the children's creativity dictate the direction of the course. If you have a recurring group of kids attending, you can even put together a band, chorus or start planning an art show!
Selling Your Creativity to the Community
In addition to holding a recital or art show, you can raise money by displaying your creativity in other ways. Depending on your talents, you can do a variety of music and art-related projects for your fundraising cause:
Sell handmade crafts - If you're artistic, you can create and sell crafts and other items at markets and shopping fairs. People love to buy items that are handmade; you can even offer to personalise items like ornaments or picture frames.
Make a fundraising CD - For musically inclined fundraisers, making a charity CD has never been easier. There are computer programmes available that can record and burn CDs instantly. Whether you get your friends together and form a band or play by yourself, a charity CD is sure to be a hit!
Public performances - Public performances such as caroling work great around Christmastime, but remember that you can perform in your town centre any time of the year. You may need a permit from your local council, but then all you have to do is choose your songs and start playing.
Creative Fundraising Through Music And Art
Music and art are such integral parts of our culture. For creative people like musicians and artists, there are countless things you can do with your talents to raise funds for a cause.
The stereotype of the quiet musician or the brooding artist is a thing of the past; make people forget about it and get out into your community to create something for a good cause. Whether it's a themed show at Christmastime or a crafts sale at your local market, when you get creative with your talents then your fundraising cause will benefit. Your community will appreciate the positive spin you put on your artistic endeavours too!
You might also like...
heyy this is great me and my friends really wanted to do something for charity and this has really helped me get ideas.
kayley.xxxx
- 16-Jan-14 @ 7:48 PM