Become an Accredited Fundraiser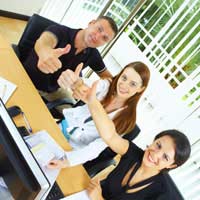 There are educational institutes in the UK that offer courses and training for those looking to become an accredited fundraiser. Training can take place online or in traditional classroom settings such as universities.
Fundraising and Professional Qualifications
There is no actual requirement for fundraisers to gain professional qualifications unless they are intending on a fundraising career path. But there are reasons why fundraising training and credentials can be useful. A great number of skills can be learnt through fundraising courses that will be useful when it comes to maximising profit potential. Volunteer fundraisers or indeed anyone who is involved in fundraising over the long term can benefit greatly from these courses.
Skills Included in Accredited Fundraising Courses
There will be a difference in the training included in fundraising courses depending on the level of intended qualification. Some common fundraising courses and modules will include:
Funding strategies
Maximising profit with marketing
Creative and professional bid writing
Securing corporate sponsorship
Funding from trusts and grants
Funding from the lottery
Charity financing and accounting
Fundraising through the community
The Benefits of Online Fundraising Courses
Online courses do have their critics, mainly because there is no actual classroom setting. But there are advantages to online courses, one of which is gaining accreditation at the student's own pace. This is similar to the teaching structure used in distance learning institutes such as the Open University. Students can proceed with modules and training assignments in their own time; although in some cases there will be deadlines. Online courses also give students the opportunity to choose and mix the modules and training courses that will be relevant to them.
Length of Time for Online Fundraising Accreditation
Timeframes for achieving fundraising accreditation will depend on the type of training and the learning institute. There are online fundraising courses such as those run by the Fundraising Skills group where each accreditation certificate can be completed in three weeks. The Open University runs distance learning fundraising courses that can be completed in the student's own time. Fundraisers who lead busy lives outside of their fundraising activities will need to assess which course will be suitable. Leaving adequate time for fundraising studies should eliminate pressure and provide the best results.
Online Accreditation Courses versus Classroom Setting
Many tutors believe that actual classroom settings are the only way to learn and network with other students. But apart from sitting in an actual classroom there are not too many differences when it comes to distance learning. Online support is available from tutors, and students are encouraged to keep in contact with their tutors. Online discussions are used to create a virtual classroom where students can meet others from the same course. There may also be specific weekends where students and tutors can meet up in person in both a social and classroom setting.
Fundraising Degrees through Universities
There are some educational institutes in the UK that offer professional fundraising qualifications. Depending on the university or college, the diploma and degree courses can be accredited by the Institute of Fundraising. Courses such as Charity Fundraising and Marketing will be of interest to anyone who is considering employment in the charity sector. Courses such as Charity Fundraising can be undertaken on a part-time basis and will usually take two years of study to complete. Entry requirements may be needed for these professional courses and relevant universities and colleges will have different requirements.
Obtaining Information on Accredited Fundraising Courses
Researching fundraising courses online will be the best way to find a suitable course that will match the student's time frame and budget. The Institute of Fundraising is the professional body for fundraising in the UK. They will be able to provide information on relevant courses and training, and also courses that they do run themselves. The Open University will also be another good source of information as well as local universities and colleges.
Individual fundraisers or those who work as part of fundraising group should consider fundraising training and qualifications. Accredited courses are a great way to learn new fundraising skills and to gain professional recognition in this field. Starting an accredited fundraising course could also be the first step towards a career in the fundraising and charity sector.
You might also like...
I would like to enrol on a fund raising course. I want to start an event organisation on ethical issues. I am working in a group to fund the re-opening of local theatre.Thank YouNan
honey
- 3-Mar-12 @ 1:56 PM